CEO Puts Company at Risk Over Election
Do you find it offensive that a boss tells their employees what to do with their personal lives?
ASG Software is a company suckling at the Taxpayer's you know what…
Check out their website as they are part of the GShttp://www.asg.com/Solutions/Federal.aspxA.
I guess, The CEO hasn't gotten enough business from this administration and it appears he wants to fire his employees if President Obama is re-elected.
Arthur Allen Email: CEO Of ASG Software Solutions Asks Workers To Vote For Mitt Romney
I especially love this quote from his email to his employees.
"When we buy a company, we eliminate about 60 percent of the salaries of the employees of that company."
With a threat like this – yes I consider the entire email a threat – he is compromising the quality of service the company provides. If you are working for this guy, how does it make you feel that you will be compromised because of your vote? Do like having your arm twisted?
If you are doing business with this company, think about how rational it is to do business with this firm. He will take that really good employee contact or relationship you have built with his company and put it at risk. Do you like dealing with cranky employees? Do you even know if this employee will be there after the election?
He obviously has too much business on his hands if he can afford to indirectly tell his customers what to do? If you are putting YOUR business in this guy's hands. Is it legit to ask how slippery his hands are?
Will he treat YOU differently as a customer if you don't tow the Romney Line?
He is free to fire his people.
But the market place is free to avoid goof-balls like this.
And YES – this is a blog post that becomes a blatant ad!!! (Sorry to impose that free market stuff.)
I will be happy to talk to customers who are using ASG Services to allay your fears about stability.
Come talk to Find A Nerd Computer Services. I am a nice guy, a one man operation. I am happy to serve anyone of any political persuasion. Yes, I can talk to Republicans! Call me at 610-322-2344 or email me JoeTheNerd@FindANerd.com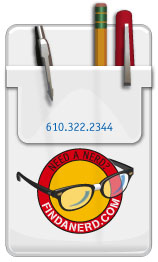 Let me help re-think your strategy to keep you away from unstable businesspeople. (I may also know a small businessperson in your area to point you to also.)
Money isn't Red or Blue.
Money is GREEN.